Overview
What is the Introduction to Nannying online course?
This Introduction to Nannying online course will teach you the fundamentals that form the Nanny profession. For many busy families, childcare, whether in a preschool, nursery or with a childminder or nanny, is essential. But while there's a large demand for childcare providers, parents need to know that the person they are leaving in charge of their children is capable and trustworthy.
Course accreditation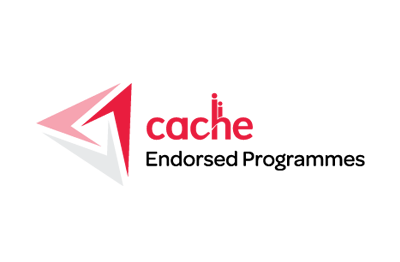 CACHE
CACHE are the leading specialist awarding organisation for the care and education sectors. Experts develop their courses to provide high quality qualifications, helping millions of people to get the skills and knowledge they need in such a vital industry.
Course type
Online Course
Processor
1 gigahertz (GHz)
Operating Systems
Windows 7,Windows 8,iOS
Browsers
Internet Explorer 8 or above,Google Chrome,Safari 8,Mozilla Firefox
Compatibility
Windows, Mac, iPhone, iPad, Android
Who is it for
Is the Introduction to Nannying online course right for me?
This foundation course is an ideal starting block for anyone wishing to study towards a career in childcare. If you can imagine yourself being that person, the role of nanny for a modern family could be right for you. Watching children grow, develop and learn in a safe and happy environment can be a hugely rewarding and satisfying experience, and as a nanny, you could have the fortune of providing parents with a stable support for their children, when they're unable to be there.
Careers
How will the Introduction to Nannying online course advance my career?
Could you provide the extra childcare support that a family needs? Set yourself on the way to a rewarding, fulfilling and important role with this Introduction to Nannying online course. You could have the fortune of providing parents with stable support for their children, when they're unable to be there.
Why study with us
Why study the Introduction to Nannying with e-Careers?
Study material that has been developed with the British Association of Professional Nannies (BAPN) – you're learning from the best.
Take advantage of written course material, tutorials, PowerPoint presentations, activity sheets and multimedia resources to provide you with in-depth information about the role of a professional nanny. Varied learning resources will help to hold your attention and maintain your motivation to learn and work through the syllabus.
Gain essential knowledge that can be added to your CV to boost your chances of bagging a job and staying a step ahead of the competition.
Assessment via four easy to navigate sets of ten multiple choice questions.
No need to be currently working with children to complete the course; study in advance of prospective job role, in-between or alongside childcare positions.
Extended learning and independent study opportunities are available, should students wish to read further around the subject area, including links to websites, recommended reading, useful guidance notes and self-evaluations.
Work towards becoming a qualified nanny, and benefit from holding a unique, rewarding and fun position that is essential to many modern families.
Learn at your own pace, whenever time allows. Course material is delivered online, and can be accessed at any point, 24 hours a day, and 7 days a week. There are no deadlines, other than the ones you may set yourself.
Technical support is on hand, should you need help using the courseware at any point.
Course Details
What does the Introduction to Nannying online course cover?
Learn about the essential role of the professional nanny and how to handle the inevitable challenges involved with working in such a relaxed and personal environment.
Get to grips with the importance of a routine, and why, even in its simplest form, an established routine is an essential foundation to any day. Learn more about some of the various elements of a routine, such as nap times, hygiene, meal times and organised events.
Appreciate the significance of time management, and how it is a crucial skill for any nanny. Learn how to plan and organise events and ideas in advance, including the use of the television as an educational tool.
Learn about the importance of respect, professional boundaries, confidentiality and good communication, to ensure the relationship between nanny and parent is one built on mutual respect for each other.
Understand some of the basic, essential requirements needed to become a professional nanny, including the necessary paperwork, training, registrations and liability involved.
Identify the five key aspects of health and safety that need to be considered, and the importance of risk assessment.
This course is CACHE endorsed through Laser Learning, an official e-Careers partner.
CACHE Endorsed certificate(s) included.