Overview
What is the Child Development course?
Early Years Practitioners, this CACHE endorsed course is the ideal way to expand your knowledge of child development, and how you can apply this to your work in various childcare settings. The online modules are endorsed by a leading qualifications provider in the education sector, and can be taken as a standalone course or in addition to relevant academic level childcare courses. On completion of this Child Development course, you will have a greater understanding of child development stages and how you can tailor your activities to suit each child's needs.
Course accreditation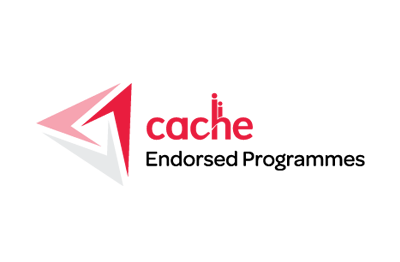 CACHE
CACHE are the leading specialist awarding organisation for the care and education sectors. Experts develop their courses to provide high quality qualifications, helping millions of people to get the skills and knowledge they need in such a vital industry.
Course type
Online Course
Processor
1 gigahertz (GHz)
Operating Systems
Windows 7,Windows 8,iOS
Browsers
Internet Explorer 8 or above,Google Chrome,Safari 8,Mozilla Firefox
Compatibility
Windows, Mac, iPhone, iPad, Android
Who is it for
Is the Child Development course right for me?
The Child Development online course is ideally suited to anyone working, or wanting to work, in early years education. It will widen your knowledge of developmental milestones and progress and other aspects of helping a child thrive outside the home. You will gain CACHE Endorsed certification and a wealth of ideas and advice you can apply in your own early years setting.
Careers
What job could I get with Child Development certification?
The concepts and ideas featured in this course are focused on the early years of a child's development, and encouraging and stimulating young children as they start to learn in a school or nursery setting. It's ideally suited to Childcare Practitioners who wish to further their knowledge, or students who wish to work with young children.
Why study with us
Why study the Child Development Course with e-Careers?
Revise and refresh your knowledge as you learn with a variety of activity sheets and quizzes.
Benefit from a wealth of recommended reading, which will help cement the core concepts covered in this course.
All course material and an end of unit assessment, along with CACHE certification, are included in the cost of this eLearning course.
You'll have access to technical support if you need it.
Study at your own pace.
Course access is for one year.
After you've successfully worked through the content in this course, you'll be able to apply a brand new set of concepts and ideas to your existing or future early years position.
Course Details
What are the Child Development online modules?
The topics of study include:
When a child's development begins
The natural and environmental influences on development
Five outcomes of Every Child Matters
Treating every child as an individual
Brain development in young children
Child development theories
Society and child development
The science of early childhood development.
What does the Child Development course cover?
Discover how nature and nurture can impact a child's development, and how you can help unlock their potential.
Learn about how to use stimulation, exercise and enriching opportunity to help children under your care thrive in their Early Years education.
Find out how to best support children under your care, and help them reach their individual development milestones.
Learn how to recognise development patterns and when to act if a child's progress is outside of the norm.
Examine the five outcomes of the 'Every Child Matters' former government initiative, which are: 1. Be healthy, 2. Be safe, 3. Enjoy and achieve, 4. Make a positive contribution, and 5. Achieve economic wellbeing. Find out how these match up to your pupils needs.
Consider the activities you could set up and run to help a child as they learn and develop.
Benefit from additional reading and links to articles relevant to brain development in children.
This course is CACHE endorsed through Laser Learning, an official e-Careers partner.
CACHE Endorsed certificate(s) included.