Overview
What is the CIW Database Design Specialist course?
The CIW Database Design Specialist is perfect if you want to learn in-depth knowledge into the purpose and function of relational databases and how to ensure they run smoothly. Databases are essential in the day-to-day operations of a business as they provide a key part of the structure of an organisation; housing customer, supplier, client and employee information all in one manageable place.
Course accreditation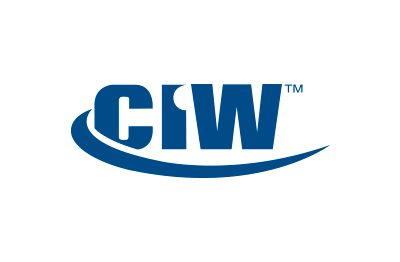 CIW (Certified Internet Webmaster)
CIW are the world's largest vendor-neutral IT and web technology education and certification programme. They have become the standard adopted by organisations including Cisco and the U.S National Security Administration. Having trained more than 1 million web professionals, one in every 7,000 people on the planet is CIW certified.
Who is it for
Is the CIW Database Design Specialist online course right for me?
The CIW Database Design Specialist is suited to:
Software Programmers who are seeking to improve their database knowledge.
IT Managers looking for a cost-effective method to strategise a business plan.
App Developers who specialise in database optimisation.
IT Professionals who are looking to solidify their knowledge in databases.
Basic knowledge of the purpose and function of a database is recommended as you will be learning about product-focused database specialisation using products including DB2, Oracle, SQL and MySQL.
Careers
How can I advance my career with a CIW Database Design Specialist course? ­
Every successful business should have a developed database in place for day to day operations to be able to run smoothly, and your skill set will certainly be in demand once you have completed this course of study. Following this course, you could go on to work in roles within database management.
If your goal is to excel in a specialized area of IT and become better equipped with technicalities such as relational databases, relational database nomenclature, and relational algebra, then this is the course for you.
Why study with us
Why study the CIW Database Design Specialist online course with e-Careers?
Learn about the technical nature of database design.
Improve the success of your business by obtaining detailed knowledge of database planning and design implementation.
Become accustomed with database technology and learn how to store, update and retrieve mission-critical information within a business environment.
Course Details
What are the CIW Database Design Specialist online course modules?
Introduction to Databases
Relational Database Fundamentals
Database Planning
Overview of Database Design Methodology
Normalisation
Logical Database Design
Physical Database Design
Structured Query Language
Relational Algebra
Transactions and Database Security
CIW Database Design Specialist exams
The CIW Database Design Specialist exam (1D0-541) lasts for 90 minutes and contains 50 questions testing your knowledge of the content in the study modules – and your ability to apply it.
To pass the exam, you will need to achieve a score 75%, demonstrating a range of knowledge and skills in this discipline.
What does the CIW Database Design Specialist online course cover?
A detailed introduction to databases and evolution, origins, file-based databases, in addition to information on the various management systems that businesses use.
Structured Query Language (SQL) includes the basics as well as expanding on more advanced modules like retrieving data from relations, data control language and data definition language.
The database design methodology and learn what makes both good and bad design practices.
The differences between logical and physical database design along with their intricacies. Both options are explored so that you can fully understand the design process.