Overview
What is the CIW JavaScript Specialist online course?
Companies across many sectors are calling out for IT experts who can successfully design dynamic and platform-independent solutions for their businesses, and that's where this course is most effective.
Discover the essentials of JavaScript language, how to implement features and concepts, and how to master a diverse skill set to help you become knowledgeable within a personal or professional capacity - wherever you choose to apply your technical expertise.
Course accreditation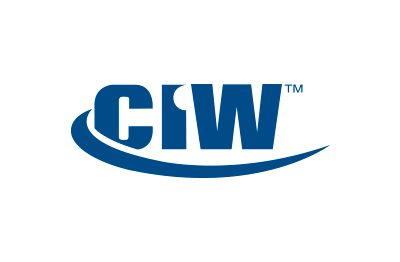 CIW (Certified Internet Webmaster)
CIW are the world's largest vendor-neutral IT and web technology education and certification programme. They have become the standard adopted by organisations including Cisco and the U.S National Security Administration. Having trained more than 1 million web professionals, one in every 7,000 people on the planet is CIW certified.
Who is it for
Is the CIW JavaScript Specialist online course right for me?
In today's thriving world of IT and e-Commerce, there is without a doubt a rising demand for JavaScript Developers who possess the intricate knowledge that's needed to maintain, restore and advance web applications. So, this is certainly a course to consider studying if you have a strong interest in web development and programming or wish to advance your career prospects.
This course is ideal for students with a love for web development, as well as the likes of software and application developers who are seeking to fully understand the many concepts behind JavaScript language. The course structure will equip those who have an interest in HTML with the technical skills needed to build powerful and functional web applications.
Careers
How will the CIW JavaScript Specialist online course advance my career?
If you are working within the web, application or software development fields, you will benefit from this course, which will provide you with valuable tools and techniques that can be used in future projects.
Why study with us
Why study the CIW JavaScript Specialist online course with e-Careers?
Boost your programming confidence and open more doors with your coding potential.
Study the course materials and resources at your leisure, with convenient and flexible courseware that can be picked up and put down as and when, to suit your other commitments.
Courseware is accessible around the clock, 365 days a year. It's also valid for a full 12 months, so you can work through the content without any unnecessary stress.
Technical support is on hand as and when you need it, should you run into difficulty with the courseware at any stage.
Tutor support available
Course Details
What modules are included in the CIW JavaScript Specialist online course?
Introduction to JavaScript
Working with Variables and Data in JavaScript
Functions, Methods and Events in JavaScript
Controlling Program Flow in JavaScript
The JavaScript Document Object Model (DOM)
JavaScript Language Objects
Developing Interactive Forms with JavaScript
JavaScript Security
Custom JavaScript Objects
Changing X/HTML on the Fly
JavaScript Libraries
JavaScript and AJAX
Debugging and Troubleshooting JavaScript
What does the CIW JavaScript Specialist online course cover?
At the tip of the iceberg is an introduction to scripting, typical JavaScript characteristics, and client-side vs server-side applications.
Learn how to communicate with users, work with variables and data in JavaScript and produce interactive applications.
Grasp how to control program flow and cover the decisional program flow.
Discover popular JavaScript language objects and how to validate interactive forms.
Build up a working knowledge of security issues such as dealing with malicious and accidental coding, creating secure code for cookies, script blocking and cross-site scripting (XSS).
Explore what it takes to create animated imagery and other custom objects needed to build dynamic web applications.
Learn how to amend X/HTML text on the fly, and expect to study any Copyright issues in relation to JavaScript technology.