Overview
What is the CIW Perl Specialist Training course?
Learn everything there is to know about specialising in Perl programming language and scripting with our CIW Perl Specialist course.
In many modern and challenging areas of business, qualified IT professionals are very much in demand for their technical skills and experience, simply because technological systems continuously need to be maintained and advanced to stay in line with business objectives. This is where your skills are sure to come in handy on a grand scale - if there's one thing this course can provide, it's career advancement.
Course accreditation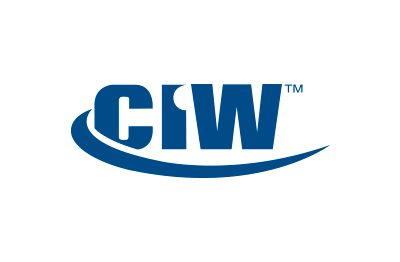 CIW (Certified Internet Webmaster)
CIW are the world's largest vendor-neutral IT and web technology education and certification programme. They have become the standard adopted by organisations including Cisco and the U.S National Security Administration. Having trained more than 1 million web professionals, one in every 7,000 people on the planet is CIW certified.
Who is it for
Is the CIW Perl Specialist Training online course right for me?
This course is suitable for beginners who wish to learn detailed information about Perl language essentials and perhaps go on to apply for software development roles.
It is also useful for IT Programmers looking to advance their existing skill set, learn new web scripting techniques and provide greater opportunities for their businesses.
We recommend that you should have some basic knowledge of web scripting and developing web pages before embarking on this course.
Careers
How can I advance my career with CIW Perl Specialist Training? ­
Improve your career prospects, job opportunities and pay scale by being able to apply a working knowledge of authoring and scripting language for websites.
Why study with us
Why study the CIW Perl Specialist Training online course with e-Careers?
Once completed, this course will ensure you gain a fully competent understanding of Perl language specialization.
Practice and master valuable programming language skills that can be implemented for personal or business use.
De-bugging web servers and platforms will become second nature once you've learned the syllabus of this valuable course.
Be free to manage individual learning time so that it suits your busy lifestyle, and prove to prospective employers how attractive your technical skill set is.
Why not take a pro-active approach to learning with the CIW Perl Specialist course? Here you'll discover detailed information about this specific area of web development that is vital to know in today's competitive IT industry. Build upon your knowledge and improve those career opportunities moving forward!
Course Details
What are the CIW Perl Specialist Training online course modules?
This online Perl course contains the following modules:
Introduction to Perl.
Flow Control in Perl.
Regular Expressions in Perl.
Arrays in Perl.
Hashes in Perl.
Subroutines in Perl.
File Input and Output.
Environment Variables and Command Line Arguments.
Packages and Modules in Perl.
Object-Oriented Perl.
Database Connectivity and Perl.
Debugging Perl Programs.
What does the CIW Perl Specialist Training online course cover?
Prepare your mindset for a varied and structured course with the CIW Perl Specialist online learning programme. On this course, expect to cover the following structure:
Explore Perl language essentials that are extremely sought after, including syntax, regular expressions and data types.
Widen your knowledge of server scripting, particularly focusing on Perl language.
How to get to grips with Perl code development, including but not limited to accessing and manipulating input and output files.
Junior, intermediate and experienced students learn how to implement websites including database connectivity and debugging techniques.
Expand your employability factor and work towards achieving your long-term career goals.
Build up a precise, practical skill set which can be applied to your business, helping to improve and maintain hypertext-based websites.
Understand the technical art of writing bug-free Perl code to keep websites in tip top conditon.
Learn what it takes to become a Perl scripting wizard and how to make the most of your skills when they are in demand within the work place.