Overview
What is the Continuous Professional Development course?
There's always going to be room for professional improvement, whatever stage you are at in your career. By working through this course, you can learn some of the fundamental aspects of continual professional development, and what can be done to ensure your practice is as effective as possible.
To be better at what you do, you will want to learn, improve and develop. By creating a Continual Professional Development (CPD) file and a Personal Development Plan, you will be able to benefit yourself, and your setting, colleagues and service users. So, what are you waiting for?
Course accreditation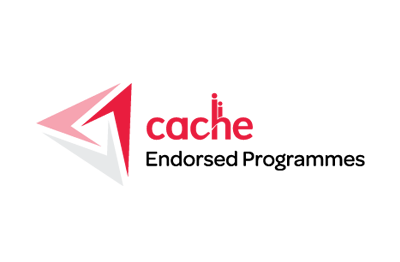 CACHE
CACHE are the leading specialist awarding organisation for the care and education sectors. Experts develop their courses to provide high quality qualifications, helping millions of people to get the skills and knowledge they need in such a vital industry.
Course type
Online Course
Processor
1 gigahertz (GHz)
Operating Systems
Windows 7,Windows 8,iOS
Browsers
Internet Explorer 8 or above,Google Chrome,Safari 8,Mozilla Firefox
Compatibility
Windows, Mac, iPhone, iPad, Android
Who is it for
Is the Continuous Professional Development online course right for me?
To get the most out of this course, you should be working as a member of a childcare setting team. Working in a managerial or leadership role is not essential, but those in these roles may also benefit from studying this unit.
Careers
How will I advance my career with a Continuous Professional Development online qualification? ­
Our exciting introductory course will help you to gain valuable insight into the job roles that you could be aspiring to, and how to attain them. Aim high and take a look at some of the qualities that you need to be a great leader.
Why study with us
Why study the Continuous Professional Development online course with e-Careers?
Course material is available online and delivered via easy-to-use courseware. There's no need to worry about travelling to teaching centres; all the resources you need to pass are accessible 24/7, 7 days a week.
Plenty of technical support is on hand, should you need help with the courseware at any stage in the course.
Study easily alongside work, additional study or other commitments.
Presentations, video tutorials, quizzes and activity sheets will help you to absorb the knowledge, irrespective of your learning style.
Ample extra reading is also available via the courseware, to help expand on the knowledge you have learned during the unit.
Complete a multiple-choice assessment to signal completion of the lesson.
Gain some essential information and improve your professional development; complete the course as a solo venture or combine with others in the series, such as self-evaluation and first-time leadership.
Take the initiative to help improve your own professional prospects and the service provided by your setting.
Make some positive changes, both personally and professionally, by signing up to this exciting course today!
Course Details
What does the Continuous Professional Development online course cover?
During this CACHE Endorsed online course you will:
Take a look at some of the preferred learning styles and learning opportunities, and understand how to plan and evaluate a learning programme.
Learn how to set up a CPD file, and be able to help others setting up their own.
Get to grips with some of the core skills required to lead others during their own professional development.
Appreciate the need for continual improvement and development, in order for a practice to be most effective. Understand the need for training and skill development, and understand that practitioners who value personal development will have more opportunities to enhance their professional growth.
This course is CACHE endorsed through Laser Learning, an official e-Careers partner.
CACHE Endorsed certificate(s) included.