Overview
What is the Developing the Children in Your Care course?
High quality early education, childcare and play-work is important to help children get the best start in life in their crucial formative years. These years help children to develop social and learning skills that will support them throughout their lives.
Learn about observations which, as a Childcare Practitioner, will become a daily requirement. Positively effect and manage a child's behaviour, as well as encourage positive development both mentally and physically through behavioural management and nutrition in the early years. You will also learn about self-esteem in young children and what you can do as a childcare practitioner to support the development of children's healthy self-esteem.
Additionally, you will study the idea of a rich learning environment and how to create and sustain a stimulating environment for children from all walks of life. This will enable you to help children achieve their maximum learning potential.
This package gains you two certificates, one certificate from CACHE confirming your endorsed learning package, the second will cover all the modules (endorsed learning programmes) within the package.
Course accreditation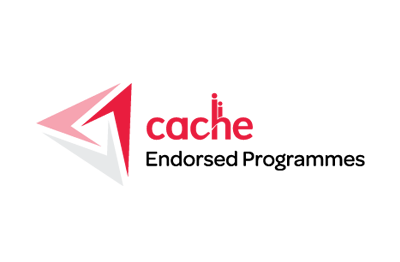 CACHE
CACHE are the leading specialist awarding organisation for the care and education sectors. Experts develop their courses to provide high quality qualifications, helping millions of people to get the skills and knowledge they need in such a vital industry.
Course type
Online Course
Processor
1 gigahertz (GHz)
Operating Systems
Windows 7,Windows 8,Mac OS,iOS
Browsers
Internet Explorer 8 or above,Google Chrome,Safari 8,Mozilla Firefox
Compatibility
Windows, Mac, iPhone, iPad, Android
Who is it for
Is the Developing the Children in Your Care online course right for me?
This course is ideal if you are a Childcare Practitioner looking to help the development of children, either at home or within a childcare setting.
You will undoubtedly aspire to be the best at what you do and understanding concepts such as the Early Years Foundation Stage Statutory Framework will help you to achieve your goals.
Careers
How will I advance my career with a Developing the Children in Your Care qualification? ­
This course will help you to grow as a childcare professional, as you learn what you can do to support the development of children's physical and mental wellbeing.
Why study with us
Why study the Developing the Children in Your Care online course with e-Careers?
12 months unlimited access to the course content.
Sign in and study anytime, anywhere. All you need is an internet connection!
24-hour, Monday to Friday technical support.
Course completion certificate once you have completed the training.
Get your CV to the top of the pile using the knowledge and skills you have gained.
Course Details
What are the Developing the Children in Your Care online course modules?
Observing Children
Child Development
Communication and the EYFS
Developing Self Esteem in Young Children
An Enabling Learning Environment
What does the Developing the Children in Your Care online course cover?
During this online CACHE endorsed course you will:
Learn about the various factors that need to be taken into account when making observations, what makes an effect observation and how they help to decide a child's next milestone.
Get to grips with the EYFS 2008 Principles in Practice cards and understand their content. Understand Section 1 of the EYFS statutory framework, with regards to learning and development, as well as the Development Matters in EYFS content.
Learn about effective planning, so that issues can be resolved and activities and strategies can be implemented to help a child's development.
Identify some of the rules that need to be followed with regards to confidentiality.
Make yourself aware of the child's needs, by acknowledging the five outcomes outlined in Every Child Matters.
Enhance your knowledge of brain development in young children and learn about development theories.
Learn about the benefits of teaching good communications skills and how these develop over time.
Gain insight into helping babies and very young children learn talking skills.
Think about the various learning areas that are part of your learning environment, and learn more about how these areas can be made even more stimulating than they already are.
Learn how to plan a room, and how to link the various areas and activities to the early learning goals. Ensure that the environment meets the needs of all children who will be using it, regardless of their individual requirements.
Gain insight into how to designate responsibility to staff, so that all Key Workers and Practitioners can be part of this enabling process.
Understand the importance of outdoor learning, and recognise some of the ways in which education can be taken outside, such as within outdoor learning environments or via the implementation of forest schools.
This course is CACHE endorsed through Laser Learning, an official e-Careers partner.
CACHE Endorsed certificate(s) included.