Overview
What is the MS Excel 2016 course?
This Microsoft Excel course explores and teaches you the skills that you will need in any modern-day workplace. Microsoft Excel can be applied to almost every industry to speed up processes, monitor financial progress and much more.
Microsoft Office is one set of computer programs that needs no introduction. They are widely used in work and life for a variety of different tasks, and MS Excel 2016 is no exception. Whether you are tracking your finances as a self-employed homeworker, preparing spreadsheets and graphics to illustrate company performance, or keeping a set of figures in an admin/finance role, proven skills in the field will help you progress and stand out from the crowd.
The standards are widely recognised, and the course is an official one, so why not make your mark and see where recognised computer skills could take you.
Course accreditation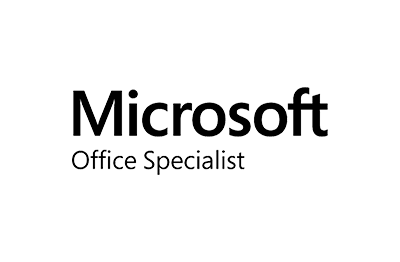 Microsoft
You're likely to find Microsoft Office or one of its applications in any business environment today. With 1.2 billion Office users, it has become the premier administration programme for business and personal use.
Who is it for
Is the MS Excel 2016 online course right for me?
Whether you are self-employed or working in a business you need to track your finances, prepare spreadsheets and graphs to illustrate company performance and targets. This is a great course to ensure you have the necessary skillset to carry out these tasks.
Careers
What job could I get with a Microsoft Excel 2016 qualification?
With this course you can enhance your current CV and take on a role where you are dealing with Excel spreadsheet today. This package also works well with other courses such as Accounting AAT qualifications.
Why study with us
Why study MS Excel 2016 Online Course with e-Careers?
Ideal to purchase for staff training and development at work.
Testing and refreshing your knowledge can have benefits at home, whether you use Excel to track personal accounts or for small business data.
Prove your Excel skills at work and find new opportunities for progression.
Ideal first step towards achieving a full MOS Office Specialist qualification in all programmes.
Refresh and update your skills with exam preparation material and additional resources.
Course Details
What are the MS Excel online course modules?
This package is made up of three courses:
MS Excel 2016: Introduction
Follow 34 lessons totally approx 17 study hours.
Familiarise yourself with MS Excel 2016, its documents and controls.
Learn to create tables step by step.
Find out how to enter values correctly into the cells.
Learn how to set up cell formatting, including conditional formatting.
Study the manipulation of each cell and cell range.
Learn to work with worksheets and entire files.
Discover how to create a chart.
Learn to create calculations using basic arithmetic formulas.
MS Excel 2016: Intermediate
Follow 35 lessons totally approx 18 study hours.
Follow interactive lessons focused mainly on performing calculations.
Broaden your basic knowledge by the application of logical and text functions.
Understand the principles of referencing to the values in other cells.
Learn to fill cells with series of data.
Familiarise yourself with the advanced options of sorting and filtering data.
Study searching for specific values in extensive tables.
Examine how to split longer text entries in tables into individual data placed into several columns.
MS Excel 2016: Advanced
Follow 29 lessons totally approx 15 study hours.
Focus on the creation of charts and automation of the work in the program using macros.
Also examine the insertion of various graphical elements into worksheets i.e. shapes or SmartArt graphics.
Learn to prepare a table or entire worksheet before printing.
Familiarise yourself with the options of protecting and sharing the workbook content.
Look at the usage of macros, including their creation, editing and the options of macro security.
What does the MS Excel 2016 course cover?
This official Microsoft exam could include questions based on the following topics:
Creation of worksheets and workbooks - including importing data from a delimited text file, adding worksheets to existing workbooks, and copying or moving a worksheet.
Navigating around worksheets and workbooks - this could look at searching for data in a workbook, navigating to specific cells, range or a workbook element, or inserting and removing hyperlinks.
Formatting topics - renaming a worksheet, changing tab colours, modifying page setups or worksheet orders, or inserting and deleting columns/rows. You may also be tested on workbook themes and how to change them, altering the height or width of rows and columns, and inserting headers and footers into a worksheet
Different customisation and view options - this could be hiding or un-hiding columns and rows, customising the popular quick access toolbar, or modifying document properties. Other topics could focus on changing workbook and window views, different uses of the zoom tool, and display formulas.
Configuration of worksheets and workbooks - this topic is all about setting up spreadsheets for distribution, so may include setting print areas and scaling, saving workbooks in alternative file formats and inspecting workbooks for accessibility or compatibility issues.
Managing data cells and ranges - could test you on replacing data, special paste options for data, using Auto Fill, and deleting cells.
Formatting cells and organising data - testing your knowledge on topics such as modifying cell alignment, using format painter, and applying number formats and cell styles. Also look out for inserting spark lines and outline data, and applying conditional formatting.
Creating tables - you could be examined on creating Excel tables from cell ranges, inserting or removing rows or columns, filtering records, and removing duplicate records.
Performing tasks using formulas and functions - this could include performing calculations using the SUM, COUNT or AVERAGE functions, performing logical operations using IF, SUMIF, or COUNTIF functions, and formatting text using a variety of tools.
Creating charts and objects. Become familiar with creating charts, adding additional data, switching between elements in the source data, and analysing data using Quick Analysis. You may also be tested on formatting charts and their elements, applying layouts and styles, or inserting and formatting objects.