Overview
What is the Inclusion online course?
True inclusion, that considers all the support systems that are available, can help to promote equality and diversity in society. Children should have the opportunity to achieve their full potential, irrespective of their background, race or gender, and regardless of whether they experience learning difficulties or have a disability. This course helps to promote inclusion, within the EYFS framework, so that everyone within a learning environment can be treated equally and without discrimination.
Course accreditation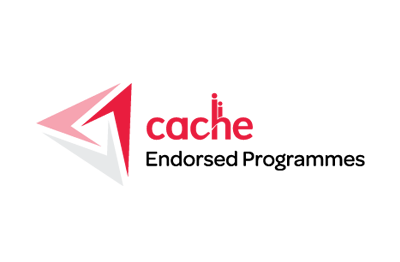 CACHE
CACHE are the leading specialist awarding organisation for the care and education sectors. Experts develop their courses to provide high quality qualifications, helping millions of people to get the skills and knowledge they need in such a vital industry.
Course type
Online Course
Processor
1 gigahertz (GHz)
Operating Systems
Windows 7,Windows 8,iOS
Browsers
Internet Explorer 8 or above,Google Chrome,Safari 8,Mozilla Firefox
Compatibility
Windows, Mac, iPhone, iPad, Android
Who is it for
Is the Inclusion online course right for me?
The course is primarily aimed at Practitioners working within a nursery setting. However, other Childcare Professionals may also benefit from the knowledge gained by signing up to this course.
Careers
How will the Inclusion online course advance my career?
With the relevant legislation and statutory guidance in place, in the form of the EYFS framework, Practitioners can learn to help every child reach their full potential, and have an excellent start in life, no matter what their circumstance. This in-depth course will help students to ensure solutions are available should inclusion problems arise, adding vital knowledge to your skillset.
Why study with us
Why study the Inclusion online course with e-Careers?
Learn the fundamental concepts that will help to give every child a chance to reach their full potential.
Study at home, or on the move, with access across various platforms.
Follow this course alongside work, study or other commitments.
Technical support is available if students run into difficulty using the courseware.
Videos, presentations, tutorials, activity sheets and quizzes available as part of the syllabus, to ensure students can use a variety of media to learn the course content.
Plenty of recommended reading also available, with links and downloadable resources, to further a student's knowledge and expand their expertise.
Multiple choice assessment to complete the unit, which can be submitted online to see your progression.
Course Details
What does the Inclusion online course cover?
Learn how to use inclusion in settings to help the development of communities where all people are equally valued and have the same opportunities for participation.
Identify the barriers that stop people from participating in activities fully. Understand what causes these barriers, such as disabilities, learning difficulties, cultural differences and language barriers, and try to find solutions to help people overcome them.
Understand the importance of adapting activities so that those with additional needs can be included alongside their peers.
Learn about some of the ways in which practitioners can promote diversity, equality and inclusion. Learn how to support others to do so, as well.
Get to grips with some of the Early Years Foundation Stage (EYFS) statutory framework, particularly the paragraphs related to inclusive practice. Work through the four related EYFS 2008 Principles in Practice cards that should be readily available in your work environment (and also downloadable via the Department for Education (DfE) website).
Use PowerPoint presentations to help fully understand inclusion and the SEND Code of Practice 2015.
This course is CACHE endorsed through Laser Learning, an official e-Careers partner.
CACHE Endorsed certificate(s) included.