Overview
What is the Official CompTIA A+ Technician Training course?
The Official CompTIA A+ Technician training course is a highly recognised IT Technician course, a perfect qualification for those looking to open the door to a world of IT career opportunities. Gaining the CompTIA A+ qualification – a globally recognised and trusted certification – will equip you with essential IT and tech fundamentals.
Course accreditation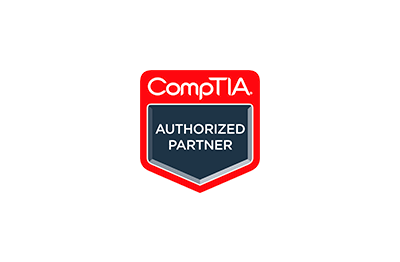 CompTIA Online Certification Training Courses UK
CompTIA is the world's leading tech association. Their membership community of experienced IT professionals collaborates to develop their certifications, providing invaluable feedback to keep the courses and qualifications relevant.
Who is it for
Is the Official CompTIA A+ Technician Training online course right for me?
The Computer Technician course is the perfect package for anyone looking to start a career in IT. As there are no pre-requirements necessary to enrol on this Computer Technician course, experienced IT Technicians and complete beginners with an interest in information technology are encouraged to enrol on this course to refresh their existing skills and learn new ones.
Careers
What job could I get with an Official CompTIA A+ Technician Training online course?
CompTIA A+ certified IT professionals can embark upon careers in many job roles relating to IT or IT maintenance as a result of gaining their IT Technician training. For example: an IT Support Technician, an IT Engineer or an IT Support Analyst. If you wish to do so, you can also go on to study the professional level of the CompTIA qualifications.
Why study with us
Why study Official CompTIA A+ Technician Training online course with e-Careers?
The two project workbooks included contain over 400 pages of practice exercises, consisting of hands-on labs, conceptual design exercises and troubleshooting exercises that will prepare you for the two A+ exams.
The workbooks map directly to the video portion of the series, making it simple to get the right training for each exam objective.
You can access the course materials for 12 months after signing up.
Technical support is available, should you encounter problems.
Course Details
What are the Official CompTIA A+ Technician Training online course modules?
The computer technician training course comprises of two courses and an exam.
Hardware Fundamentals
Operating System Fundamentals
Networking and Security Fundamentals
Safety and Operational Procedures
Supporting Display Devices
Installing and Configuring Peripheral Components
Managing System Components
Managing Data Storage
Installing and Configuring Microsoft Windows
Optimizing and Maintaining Microsoft Windows
Working With Other Operating Systems
Customized Client Environments
Networking Technologies
Installing and Configuring Networking Capabilities
Supporting Mobile Digital Devices
Supporting Printers and Multifunction Devices
Security Threats, Vulnerabilities, and Controls
Implementing Security Controls
Troubleshooting System-Wide Issues
Official CompTIA A+ Technician Training Exams
This great-value online package contains all the objectives of the nine domains that are covered in A+ exams 220-901 and 220-902. Exams are also included for full certification.
What does the Official CompTIA A+ Technician Training online course cover?
The first course is the 220-901 course focuses on:
Learning the fundamentals of motherboards, including their components, looking at the characteristics of memory, processors, and cooling systems.
Looking at the functions and characteristics of storage devices and power supplies.
Examining peripherals and expansion, including how to install and configure expansion cards, identifying features of connectors and cables, and looking at input and output devices.
Gaining an understanding of display devices, including types and settings, video standards, and technologies.
Looking into custom configurations, with topics such as gaming and home theatre PCs, home server PCs, and graphic CAD/CAM Design workstations.
Getting to grips with networking fundamentals and identifying common network hardware.
Introduction to TCP/IP.
Furthering your understanding of wireless networking and how to install and configure SOHO Networks.
Looking in to laptop architecture and how to take apart and reassemble laptops.
Gaining an understanding of mobile devices and their hardware.
Focusing on print technology and imaging processes, including installing and configuring printers, and upgrading/maintaining products.
Lastly drilling into the fundamentals of network troubleshooting and hardware issues, including core hardware issues and troubleshooting for mobile devices and printers.
The 220-902 course focuses on:
Gaining an understanding of basic operating systems and going virtual.
Learning how to administer operating systems, including using various administrative tools and disk management.
Getting to grips with Windows 8/8.1, and look at installing and boot methods.
Working with Windows 7 and learning its boot sequences, features, admin tools, control panel utilities, and more.
Examining networking and performance and optimisation topics with Windows 7.
Getting to grips with Windows Vista, including its installation and boot sequences, features and admin tools, stand-out utilities, networking, and system performance.
Looking into working with Mac OS and Linux. Topics cover best practice, tools, various features, and basic Linux commands.
Understanding common security threats and prevention methods, best practice for workstation security, and how to work with Windows OS security settings.
Looking into mobile device security, securing wired and wireless SOHO networks, and different destruction and disposal methods.
Examining various networking, cloud computing and virtualisation services.
Considering mobile operating systems, including network connections, email, and mobile device synchronisation.
Gaining an understanding of troubleshooting theory and how to troubleshoot operating systems, security and mobile issues, and mobile security issues.
Learning about operational procedures, which include safety procedures, environmental controls, policies, licensing, privacy, and demonstrating professionalism.