Overview
What is the Partnership with Parents course?
Creating an environment where children can flourish and develop is one of the core activities of a Nursery Practitioner or Early Years Educator. Part of this is relationship building with parents, and that is the focus of this flexible eLearning course. It includes a wealth of advice to help you engage with parents, get feedback and information from them, and ultimately collaborate to ensure all parties are happy with the childcare you provide. Completing this course will demonstrate your commitment to quality of care, on-going training and development, and your overall role as an early years education provider.
Course accreditation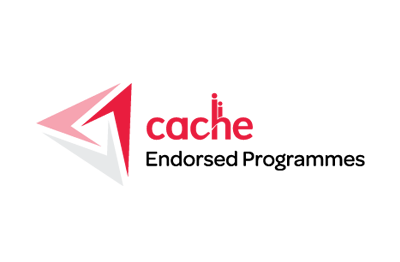 CACHE
CACHE are the leading specialist awarding organisation for the care and education sectors. Experts develop their courses to provide high quality qualifications, helping millions of people to get the skills and knowledge they need in such a vital industry.
Course type
Online Course
Processor
1 gigahertz (GHz)
Operating Systems
Windows 7,Windows 8,iOS
Browsers
Internet Explorer 8 or above,Google Chrome,Safari 8,Mozilla Firefox
Compatibility
Windows, Mac, iPhone, iPad, Android
Who is it for
Is the Partnership with Parents course right for me?
This Partnership with Parents course is well suited to early years education providers working in a nursery or pre-school setting, although it could also have value for Childminders working in other settings. Although there are no entry requirements to this course, it's aimed at those looking to boost their confidence and communication skills when interacting with parents, who would also like some practical tips for dealing with issues like attachment theory and transitions between home and nursery.
Careers
What job could I get with a Partnership with Parents course?
If you are keen to continue learning and developing as an Early Years Practitioner, then this course is a wise investment. The advice and techniques given can help you build confidence in your role, and build the best possible relationship with parent and child.
Why study with us
Why study the Partnership with Parents online course with e-Careers?
Help to become a more confident and professional communicator, so you can effectively engage with parents.
Gain expertise to help build up trust with parents and their children as they adjust to a new childcare setting.
The opportunity for independent learning through external links and extra reading.
Benefit from a range of learning materials guaranteed to keep you engaged, from video presentations and activity sheets to quizzes.
12 months' access to online course material, which you can work through at your own pace to suit your lifestyle needs. An end of course test will reinforce all you've learned.
Course Details
What are the Partnership with Parents online course modules?
Topics looked at within this course include:
Building a relationship with parents and caregivers.
Bringing home into a childcare setting.
Dealing with parental concerns and complaints.
Transitions between home and learning environment.
EYFS Principles into Practice.
Attachment theory.
What does the Partnership with Parents online course cover?
Learn about the different ways practitioners can engage with parents and caregivers, and the importance of a strong partnership with them.
Look into how you can bring aspects of home into your childcare setting and vice versa, to help children feel comfortable and happy. This could mean allowing a comfort item to be brought in and a 'goodbye routine', or asking about favourite activities or songs that could distract and calm.
Examine common reasons for complaints, and how to investigate, record, and respond to them. This also includes legal frameworks relevant to parental complaints or concerns.
Learn techniques to help with a child's transition from home to school, and how to support continuity in learning.
Examine the 'Parents as Partners' card which forms part of the Early Years Foundation Stage Principles Into Practice 2008 guidelines.
Gain an understanding of attachment theory, and the importance of positive relationships to make the transition to Early Years education easier.
This course is CACHE endorsed through Laser Learning, an official e-Careers partner.
CACHE Endorsed certificate(s) included.