Overview
What is the Self Evaluation online course?
This Self-Evaluation online course will help you to reflect on the practice you provide, which is a crucial skill for Early Years Practitioners who wish to learn and develop their skills, understanding, empathy and best practice. Listening to opinions and feedback from other staff members (as well as parents and children who use the service) will help you to implement new strategies and approaches, which can have a positive impact on your learning environment.
Upon completion of this course, you will understand more about the self-evaluation model and the concept of reflective practice, and will be able to use this knowledge to your advantage in a current or future job role.
Course accreditation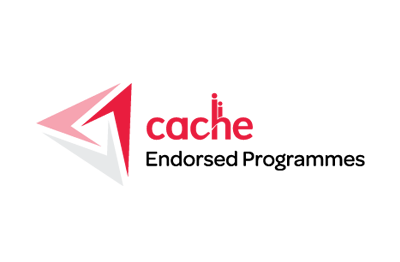 CACHE
CACHE are the leading specialist awarding organisation for the care and education sectors. Experts develop their courses to provide high quality qualifications, helping millions of people to get the skills and knowledge they need in such a vital industry.
Course type
Online Course
Processor
1 gigahertz (GHz)
Operating Systems
Windows 7,Windows 8,iOS
Browsers
Internet Explorer 8 or above,Google Chrome,Safari 8,Mozilla Firefox
Compatibility
Windows, Mac, iPhone, iPad, Android
Who is it for
Is this Self Evaluation online course right for me?
This course is intended for you if you are working within a nursery environment. However, it may benefit anyone within the early years setting, who would like to enhance their knowledge of self evaluation.
Careers
How will the Self Evaluation online course advance my career?
Don't settle for just being good enough. Better yourself within your childcare or education setting by signing up to this introductory self-evaluation course and learning how reflective practice can ensure the implementation of some positive changes – both professionally and personally, which will no doubt have a positive impact on your career.
Why study with us
Why study the Self Evaluation online course with e-Careers?
Enhance your professional development by learning that feedback and self evaluation is a positive thing!
Plenty of extra reading available to help you develop your expertise further; topic areas including self-development, reflective practice, KEEP, self-evaluation forms and inspector expectations can be read at the click of a button.
Pick up and put down the course material, as and when it suits you. The course is delivered online, meaning absolute convenience, as well as access to the material at any time.
Technical support is on hand, in case you need help with the courseware at any stage.
Use a variety of resources, including videos, quizzes and PowerPoint presentations, to enhance your learning experience and maintain your interest.
Activity sheets, containing beneficial tasks that will help you to underpin the knowledge that you have gained on the course, are also available to be downloaded and completed.
Course Details
What does the Self-Evaluation online course cover?
Look at the self-evaluation model, and learn how to look at your practice objectively.
Identify ways in which reflective practice can help, and develop the skills and attributes required for effective reflective practice.
Learn how to set achievable targets, and how to effectively implement changes that can prove to have a positive impact on the service provided.
Understand the need for continual self-evaluation. It's not a one-time thing! Practitioners and services are constantly evolving, which is why reflective practice needs to be an ongoing feature of your setting.
Look at an Ofsted self-evaluation form, and get to grips with some of the features that an inspector may deem to be inadequate, good or outstanding.
Understand the importance of writing down and recording feedback and thoughts, not just for professional development files but also for the benefit of Ofsted reports. Ensure files are accurate and up-to-date to avoid scrutiny.
This course is CACHE endorsed through Laser Learning, an official e-Careers partner.
CACHE Endorsed certificate(s) included.