Overview
What is the Special Needs in The Early Years course?
Most Childcare Practitioners also work as Special Educational Needs (SEN) Assistants. Whether that be in a school or care setting. Secondary schools usually have learning support departments where teaching assistants work with individuals or small groups of pupils to complement work being done in class.
During this course, you will explore key legislation governing practice, different types of SEN and how you can understand, support and provide for children with SEN. You will also take a module focused on Asperger syndrome – to enter this sector it is key that you are well educated and informed on the key aspects and impact of Asperger's.
This course will also give you the ability to spot signs and symptoms of ADHD and feel confident providing children, young people and their families with accurate support and advice where needed.
Course accreditation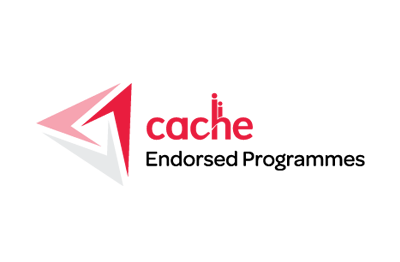 CACHE
CACHE are the leading specialist awarding organisation for the care and education sectors. Experts develop their courses to provide high quality qualifications, helping millions of people to get the skills and knowledge they need in such a vital industry.
Course type
Online Course
Processor
1 gigahertz (GHz)
Operating Systems
Windows 7,Windows 8,Mac OS,iOS
Browsers
Internet Explorer 8 or above,Google Chrome,Safari 8,Mozilla Firefox
Compatibility
Windows, Mac, iPhone, iPad, Android
Who is it for
Is the Special Needs in The Early Years online course right for me?
This CACHE Endorsed course is ideal if you would like to study how to provide care and support for children with special educational needs, such as Asperger's, Down's Syndrome or ADHD.
Careers
How will I advance my career with a Special Needs in The Early Years course? ­
This course will give the knowledge you need to work as a childcare professional in a role that supports children with special educational needs.
Why study with us
Why study the Special Needs in The Early Years online course with e-Careers?
12 months unlimited access to the course content.
Sign in and study anytime, anywhere. All you need is an internet connection!
24-hour, Monday to Friday technical support.
Course completion certificate once you have completed the training.
Get your CV to the top of the pile using the knowledge and skills you have gained.
Course Details
What are the Special Needs in The Early Years online course modules?
Recognising and Supporting Children with Special Needs (SEN)
Asperger Syndrome
ADHD
Managing Behaviour
First Time Leadership
What does the Special Needs in The Early Years online course cover?
Learn how to use information sourced from a Key Person, SENCO and parents to form a plan, which can be used to organise the child's activities and support, with emphasis on the EYFS where necessary.
Gain insight into the various child-led models of delivery, and the importance of the approach in comparison to service-led alternatives.
Explore the various Special Educational Needs (SEN) that you may experience within a childcare setting, including Down's Syndrome, ADHD, ADD, Cerebral Palsy and Asperger's Syndrome.
Understand some of the key legislation points that help govern practice with regards to SEN.
Learn how to write a SEN policy.
Understand more about Asperger's syndrome, including its impact on an individual and how they interact with the world around them
Become clear on definitions of ADHD and ADD.
Learn about some of the symptoms of ADHD and how they can be controlled.
Learn about good practice in supporting people with ADHD
Identify ways in which you can help children to interact appropriately with others.
Understand the various definitions of good behaviour and appreciate how broad this definition can be, depending on factors like the age of the child, their cultural situation and tolerance levels of staff.
Identify some of the strategies that can be implemented to encourage an improvement in behaviour, and explore the benefits of working with the appropriate outside agencies to help with these strategies.
Learn the differences between leading and managing, and the qualities and skills required to perform both roles effectively. Gain insight into the qualities and characteristics of a good leader within an early years setting.
Gain insight into the need for stress management, ensuring that a leader or manager stays calm and balanced, even during difficult times. Learn how to evaluate the reasons for these challenging circumstances.
This course is CACHE endorsed through Laser Learning, an official e-Careers partner.
CACHE Endorsed certificate(s) included.