Overview
What is the Understanding the Early Years Foundation Stage course?
Early Years childcare settings have a mandatory set of standards to follow, which are officially documented in the 2008 EYFS guidelines. These guidelines were revised and re-released in 2012, with a further update in 2014. This academic-level short course is ideal for new or existing Childcare Practitioners who want to refresh their knowledge of the original guidelines and become well-versed in all the revisions. Endorsed by CACHE (Council for Awards in Care, Health, and Education) this course will help you deliver best practice in a rewarding career working with children under the age of five.
Course accreditation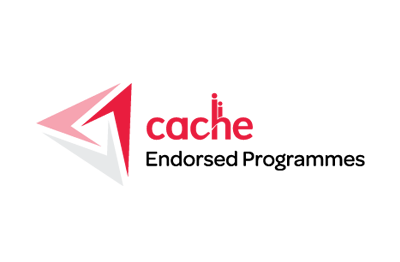 CACHE
CACHE are the leading specialist awarding organisation for the care and education sectors. Experts develop their courses to provide high quality qualifications, helping millions of people to get the skills and knowledge they need in such a vital industry.
Course type
Online Course
Processor
1 gigahertz (GHz)
Operating Systems
Windows 7,Windows 8,iOS
Browsers
Internet Explorer 8 or above,Google Chrome,Safari 8,Mozilla Firefox
Compatibility
Windows, Mac, iPhone, iPad, Android
Who is it for
Is the Understanding the Revised EYFS course right for me?
There are a variety of roles available as children take their first steps on their school journey, in early years education, private childcare settings and nurseries. As the EYFS framework is essential knowledge, this short course could refresh or update what you already know, or help you secure a position if you have an interest in becoming a Childcare Practitioner for young children.
Careers
What job will I get with a Revised EYFS course certificate?
This short course will help you gain knowledge of the official EYFS guidelines that you can apply in a position in childminding, a nursery setting, or foundation stage schooling. Whether you are new to the early years profession or want to update your knowledge, take that first step with us today!
Why study with us
Why study the Revised Early Years Foundation Stage course with e-Careers?
Enhance your CV with up to date knowledge to help you find roles in EYFS settings.
Increase your confidence in your current EYFS position, with an awareness of the latest revisions.
Technical support available to assist you in using the courseware.
Additional guidance documents available, such as videos and presentations, to inspire further interest in the framework.
Download revised EYFS documents, or sign up to the DfE backed 'Foundation Years' website for guidance and updates.
CACHE endorsed certification available on completion of the course (included – must be applied for within three months).
Access to the course is for one year.
Flexible online learning whenever and wherever suits you.
Course Details
What are the Revised Early Years Foundation Stage online course modules?
This course covers the following topics:
The original EYFS guidelines
Revisions to the Early Years framework
The Tickell review
The 2012 and 2014 revisions
The 'Themes' and 'Principles' that are a key part of the statutory framework
Learning and Development
Formal assessments required by the EYFS
What does the Revised EYFS stage online course cover?
Refresh your knowledge of the original EYFS framework before looking in detail at the revisions.
Find out about the formation of the EYFS statutory framework.
Learn more about the Tickell review in 2012, and the resulting changes in the EYFS guidelines.
Follow with a look at the further changes and revisions made in 2014.
Study the key concepts of 'Themes' including A Unique Child, Positive Relationships, Enabling Environments, and Learning and Development – and the associated 'Principles' in EYFS.
Examine the Learning and Development theme, and the difference between three new prime areas, and four new specific areas.
Learn more about the formal assessments required by the EYFS.
Use the learning resource tables to identify the different development stages you'll see working in EYFS.
This course is CACHE endorsed through Laser Learning, an official e-Careers partner.
CACHE Endorsed certificate(s) included.