Master Tailor Package: 300+ Sewing Courses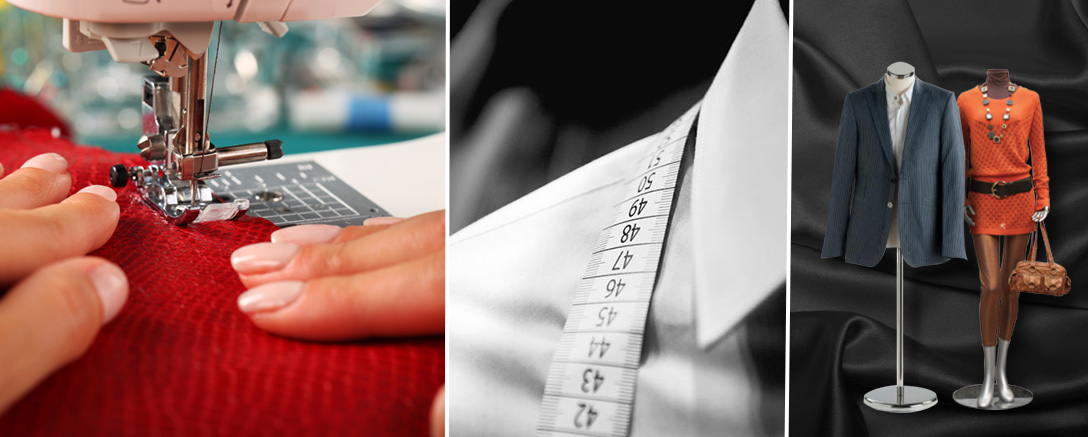 All new orders will receive the new upgraded package.
Learn everything you need to know to mend, alter and tailor clothes. The course is designed to take you from the very basics, such as how to set up a sewing machine, through to mending and altering, and on to making your own clothes and advanced tailoring.
By the end of the course students will be able to make custom dresses and suits from scratch. Along the way, explore making small items such as ties, handkerchiefs and cravats, working with patterns, using sewing tools and much more. Build a foundation of knowledge that could help you progress to a career as a tailor or dressmaker.
We use only the world's finest instructors who have a minimum of 15 years real world experience and are experts in their fields. Unlike a live class you can fast-forward, repeat or rewind your lectures, enabling you to fully understand each topic before moving on. This creates a personal learning experience and gives you all the benefits of hands on training with the flexibility of fitting it in around your busy schedule.
Key Learning Points
The course takes an in depth look at the tools and techniques necessary to progress from simple mending to complicated tailoring. Our course features instructor-led video demonstrations that will guide you step-by-step through everything you need to know. Focus areas include:
Beginners sewing machine course - Learn how to get to grips with using a sewing machine in this comprehensive module. Gain valuable insight into threading the machine, cleaning the machine, using a bobbin, thread tension and feed dogs, fabric control and seam sewing.
Day to day beginners sewing course - Explore the basics of sewing and learn how to make an apron and a cushion using a simple pattern.
Making small items - This module demonstrates how to make small, basic items such as ties, cravats, handkerchiefs and bow ties. Learn about darts, pleats, hems, pockets and piping.
Fashion design and making clothes from scratch - An in depth look at using more complex patterns to make items of clothing from scratch, including skirts, dresses, trousers, jackets, shirts, waistcoats, jeans, pyjamas, tunics and accessories.
Sewing repairs and alterations - Learn how to make complicated alterations and repairs.
Advantage of this course
This highly practical and interactive course will give you the confidence and skills necessary to make, mend and alter clothes. You will build a foundation of knowledge that could help you progress to a career as a tailor, seamstress or dresser. Further benefits include:
Over 300 guided video courses to take you through each element step-by step
Learn from exercises covering every aspect of sewing
A thorough understanding of sewing machines and how to use them
Course e-books to print off and keep
Study how to make many small items with ease: Ties, Handkerchiefs, Cravats and Bow Ties.
Whether you fancy a change of career or simply a new hobby, this course has been designed for you. So don't delay – buy now and get sewing!
All details are subject to change and will be updated when the new courseware is released.
Beginners Sewing Machine Course
Sewing machine basics
Sewing Machine Accessories
The bobbin and the bobbin case
Threading the sewing machine - Coming Soon
Cleaning the sewing machine
The sewing machine needle
Thread tensions and feed dogs
Sewing machine presser feet
How to control your fabric as you sew
Lets get sewing - your first seam
Day to Day Beginners Sewing Course
Equipment
The Sewing Machine
Using the sewing machine
The overlocker machine
Using the overlocker
Fabrics and trimmings
Using the iron
Lets get sewing
Your first project
The commercial pattern
Placing the pattern on the fabric
Cutting out the panels
Creating the front panel
Constructing the bib
Attaching all of the panels
Creating and attaching the ties
Finishing the apron
Preparing the front panel
Attaching the zipper
Attaching all the panels
Finishing the cushion
Making Small Items
The Dart
Pleats
Facings
Hems
The piped pocket - part 1
The piped pocket - part 2
The welt pocket - part 1
The welt pocket - part 2
Front slant pocket - part 1
Front slant pocket - part 2
Fashion Designer & Making Cloths from Scratch
How to measure (includes 3 measuring worksheets)
Measuring the male form
Measuring the female form
Pattern construction (includes 6 garment worksheets)
How to use a commercial pattern
Manipulating the front and back (skirt)
Manipulating the waistband (skirt)
The jacket body
The jacket collar
The jacket sleeve
The waistcoat - part 1
The waistcoat - part 2
The waistcoat - part 3
How to use the garment worksheets - Coming Soon
The ladies skirt collection
Preparing the front panels
Preparing the back panels
Attaching the front panels to the back
Preparing the lining
Inserting the lining
Attaching the waistband
Finishing the skirt
The ladies dress
Constructing the front panels
Constructing the back panels
Constructing the front lining
Constructing the back lining - technique 1
Constructing the back lining - technique 2
Attaching the front panels to the back
Constructing and attaching the sleeves
Finishing the dress
The gents trousers
Overlocking the trouser panels
Attaching the front fly zipper
Attaching the front slant pockets
Constructing the back panels
Attaching the front panels to the back
Attaching the waistband - Technique 1
Attaching the waistband - Technique 2 - part 1
Attaching the waistband - Technique 2 - part 2
Attaching the waistband - Technique 2 - part 3
Finishing the trousers
The ladies trousers (includes zipper cloure pattern)
Overlocking the main panels
Constructing the darts
Constructing the zipper closure
Creating the closure button hole
Creating the facing panels
Inserting the zipper - part 1
Inserting the zipper - part 2
Attaching all the panels
Attaching the facings - part 1
Attaching the facings - part 2
Finishing the trousers
The gents tailored jacket - standard - Coming Soon
Preparing the front panels
How to construct a piped pocket
How to construct a welt pocket
Building the front panels
How to construct a patch picket
Attaching the lapels
Attaching the front and back panels
Attaching the front lining panels
Creating the side vent
Constructing the sleeve - with vent
Constructing the sleeve - standard
Setting in the sleeves
Attaching the collar
Inserting the shoulder pads
Finishing the jacket hem
The gents tailored jacket - indusrtrial technique (inludes 7 patterns & instructions)
Preparing the front panels
How to construct a piped pocket
How to construct a welt pocket
Preparing the facings and the lining
Building the front panels
Attaching the facings and the lapels
Constructing the side vents
Attaching the back panels
Constructing the sleeve - with vent
Constructing the sleeve - without vent (standard)
Setting in the sleeves
Attaching the collar - nothced style
Inserting the shoulder pads
Finishing the jacket hem
The gents shirt
Preparing the front panels
Attaching the yolk
Constructing and attaching the placket
Constructing the cuffs
Attaching the sleeves
Constructing the collar
Attaching the collar
Finishing the shirt
The standard waistcoat (includes 2 patterns)
Preparing the front panels
Attaching the facings to the lining
Completing the front panels
Preparing the back panels
Attaching the back lining
Attaching the front panels to the back
Finishing the waistcoat
The denim jeans collection for ladies and gents (inludes measurement and worksheets patterns ) 20 e-books which amas to around 106 pages
The equipment
How to measure
Pattern manipulation
Cutting out the panels
Overlocking the panels
Creating the front pockets - part 1
Creating the front pockets - part 2
Creating the front fly zipper - mens
Creating the front fly zipper - ladies
Creating the front button closure - mens
Creating the front button closure - ladies
Attaching the back yolks
Attaching the back pockets
Attaching the back panels
Attaching the inside leg seams
Attaching the outside leg seams
Creating the waistband
Attaching the waistband
Buttonholes and rivets
Finshing the jeans - Coming Soon
The classic pyjamas collection for ladies and gents (inludes measurement worksheets and patterns )
Equipment preparation
How to measure
Pattern preparation - cutting the pattern
Cutting out the panels
Preaparing the front panels
Attaching the front and back panels together
Collar creation and attachment
Attaching the facings and finishing the collar
Sleeve attachment
Buttons and button holes
Finishing the pyjama top
Attaching the inside leg seams
Attaching the seat seams
Attaching the outside leg seams
Attaching the elastic to the waist (ladies only)
Attaching the elastic to the waist - gents part 1
Attaching the elastic to the waist - gents part 2
Buttons and button holes
Finishing the pyjama bottoms
The ladies tailored jacket (inludes measurement worksheets & patterns )
Equipment preparation
How to measure
Pattern preparation - cutting the pattern
Cutting out the toile
Creating the toile
Adjusting the toile
Re-adjusting the toile panels
Cutting the jacket fabric
Cutting the interfacings
Fusing all the body panels
Preparing the front panels
Patch pockets - creation and attachment
Piped pockets - creation and attachment
Main body - Attaching the front to the back panels
Attaching the lining panels to the front facings
Notched collar style - Attaching the facings
Peaked lapel style - Attaching the facings
Attaching the hems together
Vent style - Creating the sleeves
No vent style - creating the sleeves
Attaching the main sleeves to the main body
Attaching the sleeve linings to the jacket body
Inserting the shoulder pads
Attaching the centre back seams - main body and lining
Finishing the jacket hems
Creating the collar
Attaching the collar
Buttons and button holes - jacket finishing
The Gents tailored jacket - Shawl collar style (inludes measurement worksheets & patterns ) - Coming Soon
Equipment preparation
How to measure
Pattern preparation - cutting the pattern
Cutting out the toile
Creating the toile
Adjusting the toile and cutting prep
Re-adjusting the toile panels
Cutting the jacket fabric
Cutting the interfacings and canvases - part 1
Cutting the interfacings and canvases - part 2
Cutting the lining
Fusing the main panels
Adjusting the front and side panels
Piped pockets - Preparation
Piped pockets - Creation
Upper welt pocket - Creation and attachment
Creating the canvases
Canvases - Building the front panels
Attaching the back panels to the front
Attaching the lining to the facings
Inside pockets - creation and attachment
Attaching the facings to the front panels
Side vents - creation and attachment
Creating the sleeves
Inserting the shoulder pads
Sleeve head preparation
Inserting the sleeves - outer
Inserting the sleeves - lining
Attaching the centre back panels
Attaching the under collar
Finishing the hems
Buttons and button holes
The ladies classic tunic (inludes measurement worksheets and patterns )
Equipment preparation
How to measure
Measuring - Garment worksheet
Pattern prepearation
Cutting the toile fabric
Creating the toile
Adjusting the toile and cutting preparation
Cutting the adjusted toile
Cutting the fabric
Preparing the fabric - fusing attachment
Overlocking all of the panels
Decorative lace preparation
Attaching the shoulders
Attaching the facings - Coming Soon
Attaching the lace on the bib
Attaching the sleeves
Attaching the side seams and sleeves
Finishing the hems and the side split
Finishing the sleeves
The Gents waistcoat - lapel style (inludes measurement worksheets & patterns )
Equipment preparation
How to measure
Pattern preparation - cutting the pattern
Cutting out the toile
Creating the toile
Adjusting the toile and cutting prep
Cutting the adjusted toile
Cutting the fabric
Cutting the lining
Preparing the fabric - fusing
Creating the front panels - darts
Creating the front panels - pockets
Attaching the lining to the facings
Attaching the facings to the front panels
Completing the front panels - Attaching the collar
Preparing the back lining including clasps
Finishing the back panels
Attaching the front panels to the back panels
Finishing the hems
Buttons and button holes
Accesories (inludes measurement worksheets & patterns ) - Coming Soon
How to construct a cravat (includes pattern)
How to construct a handkerchief (includes pattern)
How to construct a bowtie (includes pattern)
How to construct a cummerbund - part 1 (includes pattern)
How to construct a cummerbund - part 2 (includes pattern)
How to construct the classic day cravat (includes pattern & how to tie the cravat)
How to construct the classic tie (includes pattern)
Sewing Repairs and Alterations
Jacket Alterations - Tailored
Shorten hem with c/b vent - Coming Soon
Shorten hem with side vents - Coming Soon
Shorten hem - no vents - Coming Soon
Take in waist with vents - Coming Soon
Take in waist - no vents - Coming Soon
Shorten sleeves with vent
Shorten sleeves - no vents - Coming Soon
Sleeves - Change from vent to standard - Coming Soon
Alter vent length - Coming Soon
Reduce shoulders - Coming Soon
Eliminate wrinkle under the collar
Replace old interfacing - Coming Soon
Lapels- Reduce lapel width - Coming Soon
Lapels - Change lapel design - peak to notched - Coming Soon
Pocket flaps - Remove from piped design - Coming Soon
Repair pocket bags
Replace buttons
Shoulder pads - Remove or replace
Jacket Alterations - Casual or blouson style - Coming Soon
Replace front zipper - open ended Normal
Repair or replace elastic bottom hem
Shorten sleeves - Button cuff design
Shorten sleeves - Elastic cuff design
Trouser alterations
Shortening - Jeans
Shortening - blind hem, normal - Coming Soon
Shortening - blind hem with full tape - Coming Soon
Shortening - bind hem with half tape - Coming Soon
Shortening - stitched hem standard and wide design
Shortening - turn up
Shortening - trousers to shorts - Coming Soon
Reduce bottom hem width - Coming Soon
Lengthen trousers
Taper trouser legs - Coming Soon
Take in waist - normal - Coming Soon
Take in waist - elasticated waistband - Coming Soon
Replace elastic in a waistband - Coming Soon
Take in waist - denim jeans - Coming Soon
Widen waist
Replace elastic in a waistband - Coming Soon
Replace fly zipper - jeans - Coming Soon
Replace fly zipper - trousers - Coming Soon
Replace fly zipper - leather trousers - Coming Soon
Replace concealed zipper - Coming Soon
Replace front closure - hook and bar
Replace buttons - normal or jeans studs
Replace jeans studs - Coming Soon
Repair split seam - Coming Soon
Repair pocket bags - Coming Soon
Repair belt loops - Coming Soon
Alter seat - Coming Soon
Shirt Alterations
Shorten hem - curved design - Coming Soon
Shorten hem - straight design - Coming Soon
Shorten sleeves with placket adjustment - Coming Soon
Repair placket
Take in waist - flat felled seam - Coming Soon
Take in waist - overlocked seam - Coming Soon
Transform cuffs from button to cuff-link style - Coming Soon
Transform a double cuff to a standard cuff - Coming Soon
Remove collar leaving the stand design
Remove epelets from shoulder - Coming Soon
Repair or remove pocket - Coming Soon
Replace buttons
Repair a split seam - Coming Soon
Remove shoulder pads (blouse only) - Coming Soon
Repair or remove decorative lace (tunic only) - Coming Soon
Waistcoat Alterations
Take in or widen the waist
Reduce shoulders - Coming Soon
Redesign the front hem - Coming Soon
Shorten Waistcoat hem - Coming Soon
Repair pocket bags
Replace buttons
Repair belt or replace buckle
Repair a split seam - Coming Soon
Dress Alterations
Replace concealed zipper - side seam style - Coming Soon
Replace concealed zipper - centre back style - Coming Soon
Alter shoulders to lift bust seams - normal shoulder - Coming Soon
Alter shoulders to lift bust seams - spaghetti straps - Coming Soon
Alter normal shoulder style to spaghetti straps - Coming Soon
Alter neck design - Coming Soon
Take in waist - Coming Soon
Take in hips - Coming Soon
Taper dress - Coming Soon
Shorten hem with vent - lined - Coming Soon
Shorten hem with vent - No lining - Coming Soon
Shorten hem without vent - lined - Coming Soon
Shorten hem without vent - No lining - Coming Soon
Reduce arm-scye - Coming Soon
Shorten sleeves - Coming Soon
Remove sleeves - Coming Soon
Repair a split seam - Coming Soon
Skirt Alterations
Replace concealed zipper - Coming Soon
Replace standard zipper - Coming Soon
Take in waist - standard - Coming Soon
Take in waist - elasticated - Coming Soon
Shorten hem with vent - lined - Coming Soon
Shorten hem with vent - No lining - Coming Soon
Shorten hem without vent - lined - Coming Soon
Shorten hem without vent - No lining - Coming Soon
Reduce hips - Coming Soon
Taper skirt
Replace buttons - Coming Soon
Repair a split seam
Alter vent length - Coming Soon
Curtain Alterations
Shorten curtains From hem design - Coming Soon
Shorten curtains from the top - tape design - Coming Soon
Replace tape - Coming Soon
Create a tie-back from cut offs from shortening - Coming Soon
Altering a tie back - Coming Soon
Advanced Alterations
Create a pocket flap - Insert into pipes - Coming Soon
Creating and adding a patch pocket - Coming Soon
Create pick stitching on a jacket - Coming Soon
Create top stitching on a jacket - Coming Soon
Create a tuxedo style lapel - from standard to satin - Coming Soon
Remove sleeves from a jacket - Coming Soon
Remove collar from a button shirt to make casual
Remove pleats from trousers - Coming Soon
Create fitting darts in a shirt - bust darts - Coming Soon
Create a denim skirt from jeans - Coming Soon
Create shorts from trousers - Coming Soon
Create a fish tail on a skirt - Coming Soon
Leather Alterations
Replace zipper in trousers - Coming Soon
Replace zipper in a jacket - Coming Soon
Shorten trousers - Coming Soon
Shorten sleeves on a jacket - Coming Soon
Replace fly zipper - leather trousers - Coming Soon
Coat Alterations
Shorten hem with vent - hanging lining - Coming Soon
Shorten hem without vent - hanging lining - Coming Soon
Shorten sleeves - with vent - Coming Soon
Shorten sleeves - standard - Coming Soon
Repairing a split seam - Coming Soon
Replace buttons - Coming Soon
Repair pocket bags - Coming Soon
Waist adjustment - Coming Soon
Reduce shoulders - tailored style - Coming Soon
Reduce shoulders - Raglan style - Coming Soon
Course Code
EC111975
Type
Online Course
Course Access
1 Year
System requirement
Processor
1 gigahertz (GHz)
RAM
1 GB
Operating Systems
Windows 7
Windows 8
iOS
Browsers
Internet Explorer 8 or above
Google Chrome
Safari 6 or above
Mozilla Firefox
Compatibility
Windows, Mac, iPhone, iPad, Android
Test your PC's speed and Compatibility for Free
Click here
QUICK ENQUIRY