Overview
What is the CeMAP® Paper 2 & 3 course?
The Certificate in Mortgage Advice and Practice (CeMAP®) qualification is a mark of excellence in the finance industry and highly recognised for professionals who provide advice on mortgage products and services.
This industry validated certification provides you with the skills and knowledge for practical application. You can upskill from your current role or choose to become a Mortgage Advisor.
Course accreditation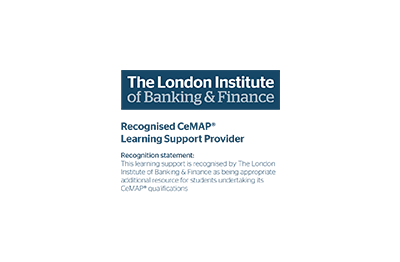 LIBF (The London Institute of Banking & Finance)
LIBF equip finance professionals with the knowledge, skills and qualifications necessary to progress their career at any developmental stage. They have managed to stay ahead of the curve in the financial and banking industries to enhance capability in financial experts.
Course type
Online Course
Certification
CeMap Paper 2 & 3
Processor
1 gigahertz (GHz)
Operating Systems
Windows 7,Windows 8,Windows 10,Mac OS,iOS
Browsers
Internet Explorer 9 or above,Google Chrome,Safari 6 or above,Mozilla Firefox
Compatibility
Windows, Mac, iPhone, iPad
Who is it for
Is the CeMAP® Paper 2 & 3 online course right for me?
Become an expert mortgage adviser and provide a vital service to home buyers. If you would like to further you career or explore the opportunities as a mortgage adviser, then this CeMAP course is right for you.
After successfully passing the CeMAP® qualification, you will have the choice of joining one of the many practising firms or fly solo as a self-employed independent adviser – the choice is yours!
Careers
What job could I get with a CeMAP® Paper 2 & 3 qualification? ­­
The CeMAP® qualification is held by 80% of Mortgage Advisors and is considered a benchmark of success in the financial industry, which can lead to a lucrative career as a CeMAP® qualified Mortgage Advisor.
Why study with us
Why study the CeMAP® Paper 2 & 3 online course with e-Careers?
Gradually work through this combination course, which includes the two final papers from CeMAP® 2014 courseware. Together with Paper 1 it covers all the required modules.
Become a professional Mortgage Advisor, with all the skills and expertise required to join an established firm or choose to go independent.
Give your CV the boost it needs, with some career-specific essential knowledge of CeMAP®.
e-Careers are the industry leaders when it comes to delivering this CeMAP course.
Build on the confidence that you gained from completing Paper 1 and boost your knowledge of the subject areas.
Course Details
What are the CeMAP® Paper 2 & 3 modules?
CeMAP® Paper 2 – Units 3 - 6:
Policies and practices that affect mortgages
Mortgage Laws
Insurance Policies
Post completion issues and arrears
Complete sales process in relation to mortgage advising
CeMAP® Paper 3 - Unit 7:
Assessment of mortgage advice knowledge
Test your understanding of the technical details to assess your ability to apply the knowledge covered.
CeMAP® Paper 2 & 3 exams
To become a professional Mortgage Advisor, you need to hold a qualification approved by the Financial Conduct Authority (FCA). CeMAP® is an FCA approved qualification awarded by The London Institute of Banking & Finance and additional fees are payable to them to sit the exams and achieve this qualification. Please get in touch if you would like to find out more about the examination process.
What does the CeMAP® Paper 2 & 3 online course cover?
A perfect follow-up to the CeMAP® 2014: Paper 1 module, this course would be ideal for anyone continuing with their studies to become a recognised and fully proficient Mortgage Advisor. This two-in-one course will help you to reach your goals in a more convenient package.
Get to grips with mortgage law, practise, policy and markets. Understand the whole home buying process and the pivotal role that the mortgage adviser holds from start to finish. Also learn about mortgage products and rates, valuations and surveys and any up-to-date legislation that may be connected.
Understand terms such as gazumping and gazundering, and the implications that these can have on the homebuyer.
Learn about what can affect the value of a property and any implications that this may have on the homebuyer.
Understand the importance of planning consent in relation to extensions and property development.
Have a firm grasp of interest rates and mortgage repayment options, and be confident in relaying these to the homebuyer in layman's terms. Understand the various insurance options that are also linked.
Learn how a mortgage can be transferred and the implications that non-payment and breach of contract can have upon the consumer.
Apply your knowledge to realistic scenarios, to help you to prepare yourself for the kinds of inquiries you will face in the real world.
Ensure that your practices adhere to the ethical and regulatory frameworks.
Build your confidence and learn how to apply your knowledge to individual cases to provide the best solutions possible.