Overview
What is the Lean Six Sigma Green Belt training?
The Lean Six Sigma Green Belt training, and professionals trained in Lean Six Sigma Green Belt, give process improvement and quality teams the necessary guidance and management principles needed to implement an efficient method of controlling operations and raising standards.
The Lean Six Sigma principles of DMAIC (Define, Measure, Analyse, Improve, Control) were originally utilised in the manufacturing industry, but as the methodology has evolved it has been used in many other industries including construction, healthcare and aviation.
Lean Six Sigma principles were developed by Motorola as a way of improving the quality of their manufacturing and service, it is now used by organisations of all sizes, including Fortune 500 companies.
Course accreditation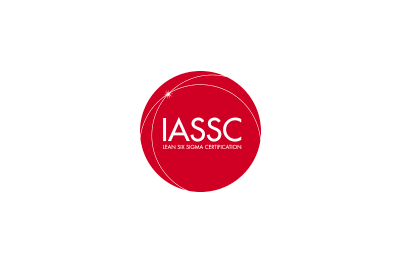 IASSC (International Association for Six Sigma Certification)
The IASSC are the only independent certification body within the Lean Six Sigma community. They dedicate their time and effort to growing and enhancing the standard of Lean Six Sigma by providing training and examination accreditations worldwide.
Who is it for
Is the Lean Six Sigma Green Belt right for me?
The Lean Six Sigma Green Belt training is ideally suited to:
Process Team Managers who need a qualification that demonstrates competence, understanding and application of the Six Sigma methodology.
Project team members who need to cross-train or upskill into process improvement using Six Sigma techniques.
Process improvement consultants who need to be able to demonstrate a high level of expertise to clients with an industry-recognised qualification.
Professionals looking to re-skill, upskill or change career for a role managing a process improvement team.
The Lean Six Sigma Green Belt salary averages at £51,000 in the UK.
Careers
What will I learn in the Lean Six Sigma Green Belt training?
As a Lean Six Sigma Green Belt you will learn how to improve a business. This will be achieved through demonstrating how Lean training and Six Sigma training can combine to teach you the terminology and understanding to a management level.
You will understand and identify common implementation issues, understand customer importance in all industries, analyse data correctly and use the right tools to make informed decisions, and show how DMAIC can redefine a business structure.
This Lean Six Sigma Green Belt training course is available with or without the exams, under the Course options.
Why study with us
Why study Lean Six Sigma Green Belt online with e-Careers?
Lean Six Sigma is two methodologies that combine to work towards the same goal, through eliminating waste in a process and preserving quality and value.
Become a globally recognised Lean Six Sigma Green Belt Practitioner
Teach colleagues and less qualified members of the team to help improve their understanding, and the overall process itself
Lean Six Sigma Green Belt salaries average at £51,000 in the UK.
Lean Six Sigma training can also be used from a personal perspective to stop household waste and save more money.
12-month access to the course content
Course Details
What are the Lean Six Sigma Green Belt Training online course modules?
Define Phase
Measure Phase
Analyse Phase
Improve Phase
Control Phase
What does the Lean Six Sigma Green Belt training course cover?
The Lean Six Sigma Green Belt Training covers:
The Define phase, during which projects are selected and wasteful elements are identified and action items are defined.
The Measure phase is used to catalogue and analyse existing processes to define an operational baseline that can be used to calculate potential capability of each.
The Analyse phase uses statistical analysis and hypothesis testing to model how processes may be improved and the potential value of each.
The Improve phase helps you to identify the changes that will deliver the greatest business benefits before putting those plans into action.
The Control phase then helps to monitor each change that is made and record any deviations from the predicted benefits, then how to action on the results.