Overview
What is the CeMAP® Paper 1 course?
Are you looking to become a Mortgage Adviser? This CeMAP Paper 1 course is the perfect introduction to your new career as a Mortgage Adviser.
It's considered by most that the CeMAP® qualification is the industry benchmark. With 80% of Mortgage Advisers holding the education, you could join the majority of professionals in the UK and work towards becoming a fully-fledged Mortgage Adviser, who can help others with their continued climb on the property ladder.
Course accreditation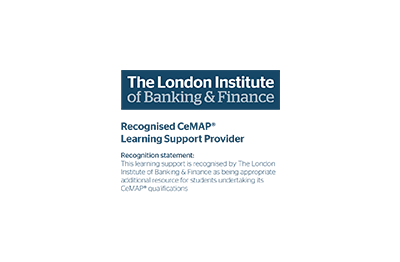 LIBF (The London Institute of Banking & Finance)
LIBF equip finance professionals with the knowledge, skills and qualifications necessary to progress their career at any developmental stage. They have managed to stay ahead of the curve in the financial and banking industries to enhance capability in financial experts.
Course type
Online Course
Certification
CeMAP Paper 1
Processor
1 gigahertz (GHz)
Operating Systems
Windows 7,Windows 8,Windows 10,Mac OS,iOS
Browsers
Internet Explorer 9 or above,Google Chrome,Safari 6 or above,Mozilla Firefox
Compatibility
Windows, Mac, iPhone, iPad
Who is it for
Is the CeMAP® Paper 1 online course right for me?
Being qualified and registered with a "licence to practice" is mandatory for anyone who wants to give mortgage advice in a professional environment. There are no requirements for this course, so if you have an interest in the industry, then this is a course to get involved in.
Careers
What job could I get with a CeMAP® Paper 1 qualification?
Once qualified you will be able to work in a bank, building society or estate agents as a Mortgage Adviser. You will be able to work in roles including:
Senior Mortgage Adviser
Mortgage Adviser
Financial Adviser
Why study with us
Why study the CeMAP® Paper 1 online course with e-Careers?
Constantly updated courses to reflect the very latest in financial regulations. With this course, you will study with the help of the most recent 2014/15 syllabus so that you will be up-to-date and ready to go.
Be your own boss and work for yourself as a freelance Mortgage Adviser. The CeMAP® course can help you to achieve your aspiration of self-employment, as well as having the opportunity to work for a financial institution.
The complete CeMAP® course is divided into three separate modules, so you can work towards your Mortgage Adviser education at your own pace and not overwhelmed.
Have the opportunity to advise others of their mortgage potential, and earn money, experience and satisfaction from a reputable career!
Start your journey to becoming an industry recognised qualified Mortgage Adviser.
Course Details
What are the CeMAP® Paper 1 online course modules?
CeMAP® Paper 1 – Units 1 & 2:
Introduction to Financial Services Environment and Products
UK Financial Services and Regulation
CeMAP® Paper 1 Exams
Exams are not included in this course, and must be purchased separately.
What does the CeMAP® Paper 1 online course cover?
This resource covers the two units of Paper 1 - one of three CeMAP® course papers. Once CeMAP® 1 UK Financial Regulation is complete, you can continue towards your mortgage adviser career dreams by completing CeMAP® 2 and 3 and becoming proficient with CeMAP®.
Explore the structure and purpose of the UK financial services industry, and why financial regulation is such an important area to understand as a professional mortgage adviser.
Get to grips with the Data Protection Act 1998, as well as FCA regulation and its conduct of business rule, so that when you work as a mortgage adviser, you can do so with confidence and thorough understanding.
Learn more about legal concepts, how they are relevant to the advice you will give, and also how legislation and regulation work together within the finance services.
Demonstrate an understanding of UK taxation and social security systems.
Learn how to effectively deal with compensation claims and complaints, just in case any issues should arise within your future business.
Understand how the volatility of interest rates can affect a mortgage customer, including how the fluctuation of interest rates can impact on affordability and acceptance for mortgages.
To become a professional Mortgage Adviser, you need to hold a qualification approved by the Financial Conduct Authority (FCA). CeMAP® is an FCA approved qualification awarded by The London Institute of Banking & Finance and additional fees are payable to them in order to sit the exams and achieve this qualification.