Overview
What is the CIW Advanced HTML5 and CSS3 training?
This CIW training will teach a you a deep knowledge of HTML5, CSS3 and JavaScript, three technologies that make up the heart of the internet – also known as the "Web Development Trifecta". Once you have learned CIW HTML and CSS, you will be able to create web pages that easily adapt to display on smartphones, tablets, gaming devices and smart TVs, as well as traditional desktop and laptop computers.
Course accreditation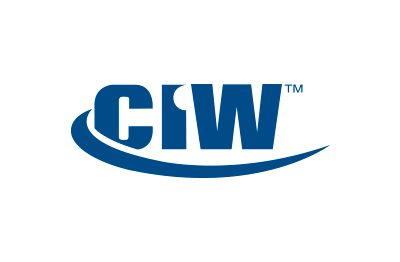 CIW (Certified Internet Webmaster)
CIW are the world's largest vendor-neutral IT and web technology education and certification programme. They have become the standard adopted by organisations including Cisco and the U.S National Security Administration. Having trained more than 1 million web professionals, one in every 7,000 people on the planet is CIW certified.
Who is it for
Is the CIW Advanced HTML5 and CSS3 online course right for me?
The course is designed to turn you into a CIW Advanced HTML5 and CSS3 specialist, but because it teaches intermediate and advanced coding skills, a certain amount of knowledge in basic HTML coding is recommended before starting. It is a natural step from the CIW Site Development Associate course and will appeal to you if you work in:
Web Design
Internet Consultancy
Information Technology
Graphic Design
Marketing
The average for a CIW Advanced HTML5 and CSS specialist salary currently stands at £51,000*. (Source: CIW)
*Converted from USD
Careers
How can I advance my career with the CIW Advanced HTML5 and CSS3 online course?
This course is ideal for anyone who is involved in the creation or design of webpages and other digital displays. If you are involved in web design, internet consulting, IT, marketing, graphic design or run your own business, then this course is suited to you.
Why study with us
Why study the CIW Advanced HTML5 and CSS3 specialist certification with e-Careers?
Become a specialist in the web technologies that form the foundations of the internet.
Design web pages that easily adapt to display on smartphones, tablets and gaming devices – in addition to desktops of laptops.
Guided labs provide opportunities for you to practice new skills.
Live chat tutor support available.
Course Details
What are the CIW Advanced HTML5 and CSS3 course modules and will I have to take exams?
HTML5 Essentials
Using Cascading Style Sheets (CSS) Technology
Introduction to CSS Version 3 (CSS3)
Using Advanced CSS3 Techniques
Introduction to JavaScript
JavaScript Events, Functions and Methods
Using HTML5 APIs
Developing HTML5 Forms
Completing, Submitting and Validating User Input Forms
Designing for Mobile Devices
The CIW HTML5 and CSS3 Specialist exam (1D0-620) lasts for 75 minutes and contains 55 questions testing your knowledge of the content in the study modules – and their ability to apply it.
To pass the exam, you will need to achieve a score of 72.73%, demonstrating a range of knowledge and skills in this discipline.
What does the CIW Advanced HTML5 and CSS3 online course cover?
Demonstrate advanced uses of the canvas element
Implement JavaScript to create interactive pages
Validate HTML5 code
Identify ways to determine browser compatibility for a page or device
Implement HTML5 forms
Use CSS3 to shape content on the page
Design for mobile devices
Implement HTML5 APIs
Identify program flow issues in relation to JavaScript-based applications
Design pages for a cloud-based storefront.