Overview
What is the CIW Internet Business Associate (1D0-61A) online course?
The CIW Internet Business Associate Online course provides a real mix of skills and knowledge which allows you to progress in a fast moving, modern business environment.
This course is vital to gaining CIW Internet Business Association certification and provides employers with the evidence they need of your proficiency in internet use for business.
Course accreditation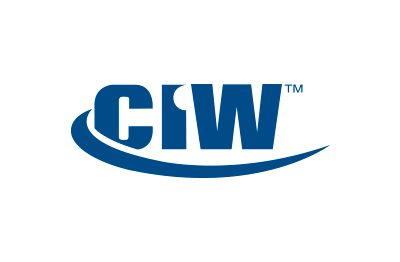 CIW (Certified Internet Webmaster)
CIW are the world's largest vendor-neutral IT and web technology education and certification programme. They have become the standard adopted by organisations including Cisco and the U.S National Security Administration. Having trained more than 1 million web professionals, one in every 7,000 people on the planet is CIW certified.
Who is it for
Is the CIW Internet Business Associate Online Course (1D0-61A) online course right for me?
The CIW Internet Business Associate Online course is best suited for two types of learners.
You will earn an extra qualification – and an important extra selling point for entering the job market. They may be at high school, college or technical school.
Professionals looking to add to their existing skills with a view to furthering their career. They may be working in a variety of sectors including:


A wide range of other businesses
Careers
What job could I get with a CIW Internet Business Associate Course (1D0-61A) qualification?­­
The CIW Internet Business Associate qualification can enhance your current role within a business, particularly if you work in a position that makes use of the internet.
Why study with us
Why study CIW Internet Business Associate Online Course (1D0-61A) Online Course with e-Careers?
This course gives learners the key skills and knowledge necessary to use the Internet effectively in a wide variety of business environments.
It is ideal for students who want to increase their knowledge and boost their CV, and also for professionals looking to advance their careers.
It prepares learners to take the CIW Internet Business Associate Exam, which has a passing score of 66%.
There is the freedom to mix and match previous-version exams with new-version exams in order to earn the CIW Internet Business Associate certification.
Certification provides clear evidence to potential or existing employers of a broad knowledge base of the important technology affecting virtually every business operating in today's marketplace.
Course Details
What are the CIW Internet Business Associate Online Course (1D0-61A) online course modules?
Introduction to IT Business and Careers
Internet Communication
Introduction to Internet Technology
Web Browsing
Multimedia on the Web
Databases and Web Search Engines
Business E Mail and Personal Information Management
Protecting Yourself Online
Internet Services and Tools for Business
IT Project and Program Management
CIW Internet Business Associate Online Course (1D0-61A) Exams
The CIW Internet Business Associate exam (1D0-61A) lasts for 30 minutes and contains 30 questions testing your knowledge of the content in the study modules – and their ability to apply it.
To pass the exam, you will need to achieve a score of 66.66%, demonstrating a range of knowledge and skills in this discipline.
What does the CIW Internet Business Associate Online Course (1D0-61A) online course cover?
Part of the Web Foundations Series, the purpose of the course is to equip learners with a powerful core knowledge of the Internet, and apply the foundation skills required for further specialization. This includes:
Learning all the skills necessary to work effectively in today's business environment.
Learning about the tasks involved in web technology roles and the skills and technological knowledge to perform them.
It covers a broad range of topics, giving learners a comprehensive knowledge and skills base with which to start or further their career:
Internet connection methods, Internet protocols, the Domain Name System (DNS) and cloud computing
The basic functions of web browsers, the components of web addresses, the use and control of cookies, and browser use in the business world
Browser plug-ins and add-ons, and use of browsers to download and manage files
Databases as they relate to web search engines, and ways to conduct basic and advanced web searches
Configuration and use of e-mail clients, guidelines for effective communication over the Internet using modern web technologies and social networking tools
Internet research and collaboration tools, software development tools, and the patent and licensing practices that accompany software applications
Issues and risks associated with the Internet, and the security measures that can keep your computer system and your personal information secure
Fundamental elements of project and program management, and the importance of acquiring these skills for all IT job roles.