Overview
What is the CIW Web Design Specialist online course?
This CIW Web Design Specialist course is perfectly suited to dedicated individuals looking to learn all there is to know about website design.
The world wide web is the key to a vast network of innovatively designed and functional websites that people from all walks of live visit every day. This course you will build upon your basic web authorising skills by exploring the essentials of web design.
Course accreditation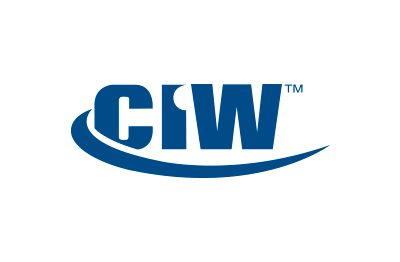 CIW (Certified Internet Webmaster)
CIW are the world's largest vendor-neutral IT and web technology education and certification programme. They have become the standard adopted by organisations including Cisco and the U.S National Security Administration. Having trained more than 1 million web professionals, one in every 7,000 people on the planet is CIW certified.
Who is it for
Is the CIW Web Design Specialist Online Course right for me?
The CIW Design specialist online course is best suited to dedicated individuals looking learn all there is to know about website design. This course is also ideal for beginners who are eager to increase their business leads and job prospects. If you are a web design student, an IT professional, a graphic artist or a business professional, the CIW web design specialist course is specifically designed to equip those with little or no background with the most practised skills and knowledge needed to target today's competitive web design industry.
When it comes to promoting a business idea or marketing a particular product, web design offers many fundamental skills which need to be developed in depth.
Careers
What job could I get with a CIW Web Design Specialist Course qualification?­­
With the Web Design Specialist qualification you could become a Web Designer or Web Programmer.
Why study with us
Why study CIW Web Design Specialist online course with e-Careers?
Master technical knowledge and skills needed to successfully design and develop websites.
Whether it's producing professional websites to market your own services, you're employed by a cutting edge software company and need the expertise, or you're involved with creating websites for various clients on a freelance basis, this course will allow you to get to grips with all things web design that are necessary for you to know and put into practice.
Transform a simple website design vision into a working strategy that will produce results for your business.
Experiment with web page layouts, colours and fonts until you've learned the power behind the true art of creative web design.
Learn the best navigation concepts which will keep any future websites you create in full working order when it comes to site structure, URLs and using correct file names.
Course Details
What are the CIW Web Design Specialist online course modules?
Overview of Web Design Concepts
Web Development Teams
Web Project Management Fundamentals
Web Site Development Process
Web Page Layout and Elements
Web Site Usability and Accessibility
Browsers
Navigation Concepts
Web Graphics
Multimedia and the Web
Ethical and Legal Issues in Web Development
HTML and the Evolution of Markup
XML and XHTML
Web Page Structure — Tables and Framesets
Cascading Style Sheets
Site Content and Metadata
Site Development with Microsoft Expression Web 4 — Introduction
Site Development with Expression Web 4 — Basic Features
Site Development with Expression Web 4 — Advanced Features
Site Development with Adobe Dreamweaver CS6 — Introduction
Site Development with Dreamweaver CS6 — Basic Features
Site Development with Dreamweaver CS6 — Advanced Features
Creating Web Pages Using Open-Source Tools
Image Editing with Adobe Fireworks CS6
Multimedia with Adobe Flash Professional CS6
Multimedia with Flash Professional CS6 — Tweens
Multimedia with Flash Professional CS6 — Movie Clips
Multimedia with Flash Professional CS6 — ActionScript, Masks and Practical Uses
JavaScript and DHTML Fundamentals
Plug-Ins and Java Applets
HTTP Servers and Web Applications
Databases
Web Site Publishing and Maintenance
CIW Web Design Specialist Online Course exam
The exam consists of 4 domains, which will prove the your ability to:
Grasp some of the site development essentials, including identifying and managing elements of the web design process, knowing some of the relevant ethical and legal issues, and understanding how to meet customer expectations with a project.
Understand some of the web design principles that need to be used to evaluate and develop a site's aesthetics, viewer experience and usability, and accessibility, of the site.
Confidently use basic web technologies, including HTML and XHTML, to develop web pages and enhance their structure, usability and format.
Create websites using GUI site development applications and know how to publish and maintain the finished product.
Appreciate some advanced web technologies, such as using multimedia and plugins, client-side and server-side programming, web databases, and syndicated feeds using feed management services.
Demonstrate how to conduct effective internet marketing.
What does the CIW Web Design Specialist online course cover?
For web design enthusiasts who enjoy an innovative and hands-on approach to learning and have devised this course to include the following structure:
This course addresses everything from the website development process and the standards your customers will expect, to legal and ethical issues revolving around web development - Ideal for students and business professionals who prefer to have all of the 'fine print' covered.
Understand the importance of key web design elements – consider how your prospective customers and clients are going to explore these 3 web design functions: usability, navigation and accessibility.
Delve into the basic yet modern web technologies of today. These include: Hypertext Mark-up Language [HTML], Extensible HTML [XHTML] and extended technologies, image files, GUI site development applications, as well as site publishing and maintenance.
Advanced web technologies are also explored in detail here - expect to brush up on the likes of multimedia and plug-in technology tools, as well as web databases, client-side and server-side technologies as part of this course.
Learn how to navigate and use popular web design production tools like Microsoft Expression Web, and Adobe Dreamweaver, Fireworks and Flash – here you can indulge your creative streak!
Master how design and development technologies play an integral part in creating a website from scratch. Technologies including Cascading Style Sheets (CSS), Extensible Mark-up Language (XML), JavaScript, Java applets and Dynamic HTML can each be explored at your own leisure.
Website accessibility is crucial for capturing and maintaining the attention span of your customer, which is why aspects such as the extensibility of design tools, compatibility of these tools, open-source applications and the functionality of current web browsers will each be addressed - gain a thorough understanding of current issues relating to web design.