Overview
What is Agile Foundation and Practitioner?
Manage projects more efficiently and effectively with the Agile project management methodology. This course package introduces would-be project managers to Agile concepts, before taking them through basic and advanced principles, preparing them to sit both Foundation and Practitioner level exams.
Principally designed for the engineering, IT and new product or service development industries, the Agile project management framework takes an iterative and incremental approach to the management and build process. The course will show you the key concepts of the framework and how they are applied to real-world projects to boost success rates and increase efficiency.
Using a series of instructor led videos and self-study manuals, the Agile Foundation and Practitioner course is delivered online via the learning platform. This system allows you to access content anywhere at any time, so you can study whenever and wherever is most convenient for your needs.
A series of flash cards allow you to test your understanding, and a number of practical scenarios in each module can be used to practice common responses, or to see how the framework can be applied to real world scenarios. You can also discuss topics with other learners using our social network, adding another learning channel by which to further improve knowledge and skills.
Course accreditation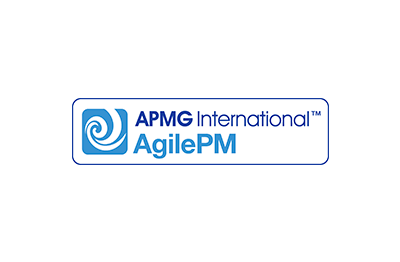 APMG International
APMG-International provide accreditation in project management and I.T based on international standards. An award-winning Examination Institute, their certifications have qualified professionals worldwide in Best Management Practice.
Course Details
What are the Agile Foundation and Practitioner course modules?
Introduction to Agile
Agile Project Management - The Basics
Roles and Responsibilities
Preparing for Agile Project Management
Pre-Project and Foundation Phases and Products
Evolutionary Development Deployment and Post-Project Phases
Techniques and Practices
Agile Control
Agile Planning
Exam Preparation
What does that Agile Foundation and Practitioner online course cover?
The Agile Foundation and Practitioner course is designed to help individuals with little or no project management experience get started quickly. Initially, you will look at the Foundation-level principles of Agile, covering topics like:
The concepts, benefits and risks of Agile development.
The philosophy, approach and principles of Agile project management.
Understanding the DSDM Atern lifecycle and products.
Recruiting or assembling appropriate project teams.
How to plan and run a facilitated workshop.
Model and prototype aspects of the solution to ensure that the correct development path is being followed.
Elicit, analyse, prioritise and manage requirements for deliverables.
Create a timeboxed plan that keeps the project on track.
Understanding the importance of negotiation and collaboration with key stakeholders to ensure continued progress.
How to set up and manage an Agile project using the framework.
Once complete, you will be ready to sit and pass the Agile Foundation qualification. You will also be fully prepared to move onto the advanced topics covered in the Practitioner course:
Overseeing products and deliverables and properly assigning responsibility to management, business and technical departments.
Structuring and empowering project teams for maximum success and efficiency.
Using MoSCoW prioritisation to ensure deliverables are completed in the correct order.
Advanced estimating, measurement and configuration considerations for successful Agile management.
Defining functional and non-functional requirements for deliverables.
Implementing quality control to maintain standards.
Preparing for the future by considering maintainability and scalability during planning.